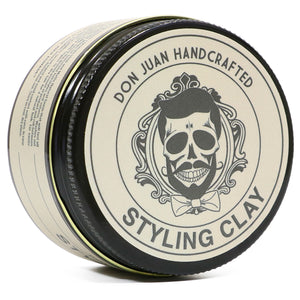 Don Juan Handcrafted Styling Clay delivers a Medium Hold and Matte Natural finish that will last all day. This pliable clay pomade allows for texturized hairstyles and volume. Washes out easily with water.
– 4 oz
– Water-Based
– Medium Hold
– Matte Natural Finish
– Summer Breeze Scent
Directions:
Scoop the desired amount of product and rub between the palms of your hands. Apply with fingers to dry hair for a natural look. For easier application apply to damp hair.