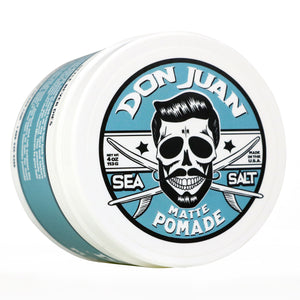 Get that Southern California freshly dried beach hair look anytime. Don Juan Sea Salt Matte Pomade provides all day hold and texture with a matte finish and a classic surf wax scent. This pomade is enriched with Natural Plant Extracts and Ocean Minerals to give hair a nurtured healthy look and feel.
– Enriched with natural plant extracts and ocean minerals
– Medium hold
– Matte Finish
– Surf wax scent
– Size: 4 oz
Directions:
Scoop desired amount of product and rub between the palm of your hands. Apply evenly with fingers to hair. For more texture and a stronger hold, apply to drier hair. Reactivate pomade for restyling by adding a splash of water to hair.