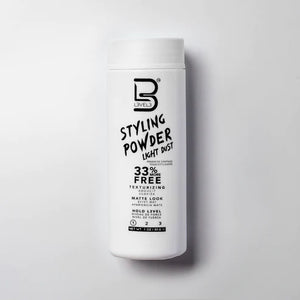 Introducing our light hold styling powder - the ultimate solution for creating perfect hairstyles with added volume and a matte finish. Experience the game-changing power of this texturizing and volumizing powder for men and women alike!
Transform your everyday look with our versatile styling powder, designed to give your hair a light hold, while providing a modern matte finish. Whether you're going for a natural or edgy style, this product offers the perfect balance of hold and flexibility to create the perfect hairstyle every time.
Key Features:
Light hold styling powder suitable for both men and women
Provides a texturizing and volumizing effect for various hair types
Creates a matte finish for a contemporary and sophisticated look
Easy to apply, with no residue or clumping left behind
Allows for reworking and restyling throughout the day
Effortless to wash out, making it ideal for daily use
Perfect for professional hairstylists or at-home styling
Why It's a Game-Changer:
Our light hold styling powder delivers the ideal combination of texture, volume, and hold, allowing you to achieve your desired hairstyle with ease. This multi-purpose product can be used on both damp and dry hair, giving you the flexibility to create a variety of styles, from tousled waves to sleek updos.
How to Use:
Lightly sprinkle the styling powder into your palms or directly onto hair
Evenly distribute the powder throughout your hair using your fingertips
Gently rub the powder into your hair to create the desired volume and texture
Styling Tips:
For maximum volume, apply the volumizing powder to damp hair and work it in with your fingers. This will give your hair a noticeable lift and hold throughout the day. If you prefer a more natural, texturized look, apply the powder to dry hair and massage it into each section. The particles will separate individual strands, creating definition and a fresh matte finish to your style.
With our light hold styling powder, you can confidently create the perfect hairstyle every time. Add this versatile product to your hairstyling arsenal and enjoy the endless possibilities it offers for both men and women.