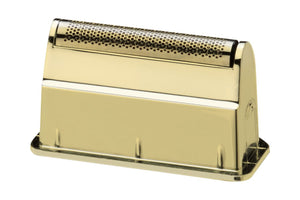 This replacement foil head is compatible with the GAMMA+ UNO shaver only. Specially designed for sensitive skin, the gold titanium foil glides over your skin for a super comfortable close shave. The ultra-thin gold foils have hypoallergenic properties that work well on any type of skin.
Meant for trimming and shaving beards, mustaches, sideburns, bald heads and back of neck. It is also great for creating straight, clean lines. This foil head cuts super razor close for the ultimate finishing job on a variety of cuts. And because the Uno shaver is wireless, you'll have no trouble maneuvering it and getting the necessary angles to achieve your desired style.
These are easy to replace, just watch our video here or on our YouTube channel. Replacing your blades gives you a better, closer shave with less nicks and cuts to the skin. Easy to clean and disinfect. For best operation, clean your blades regularly or daily depending on usage by rinsing with warm water and slightly brushing with a small soft bristle brush to remove debris.
Engineered and designed in the Italy, this package contains one (1) replacement foil head for your GAMMA+ Wireless Uno shaver.
• 1 REPLACEMENT FOIL HEAD for the GAMMA+ Uno Shaver
• SUPERIOR GOLD TITANIUM ultra-thin with hypoallergenic properties
• SUPER CLOSE CUTTING for the smoothest shave
• REPLACING YOUR BLADE gives you a better, closer shave
• PERFECT FOR SENSITIVE SKIN free of razor burns, ingrown hairs and skin irritation
• FOR BEST PERFORMANCE clean regularly when used daily
• EASY SNAP INSTALLATION with little force
• ENGINEERED AND DESIGNED in Italy
• INCLUDES: 1 replacement foil head
How to replace the foil head: Make sure the device is in the OFF position. Firmly grasp both sides of the shaver head and pull away from the device. Snap the new shaver head onto the device until it clicks in place. Do not force it. Turn on machine to make sure the foil head is secure before using.